Redesigning Cities
The Speedwell Foundation Talks @ Georgia Tech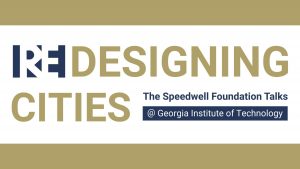 REDESIGNING CITIES: The Speedwell Foundation Talks @ Georgia Institute of Technology is a series of presentations + conversations between leading urbanists that address issues in urban design by asking, "How should existing cities and their systems be redesigned to address 21st Century challenges?"
The series is hosted by Ellen Dunham-Jones, Professor and Director of the Master of Science in Urban Design degree in the Georgia Tech School of Architecture.
In each episode, Professor Dunham-Jones brings together a pair of leading experts to address specific challenges including equity, money, social capital, climate change, outdated infrastructure, and disruptive technologies. The brief videos feature a presentation by one of the speakers, while the extended podcasts capture the conversation between the two experts.
Podcasts and videos can be accessed on iTunes, YouTube and other popular platforms as well as through the Redesigning Cities website. Follow the series on Twitter @RedesignCities.
Redesigning Cities Playlist